We are ever so proud of our achievements thus far over at the StylesAfrik camp! On the 1st November 2012 our stylish co-founder Stephanie Mensah had her first major daily Metro newspaper debut.  Commuters in and around the UK were introduced to personal revelations by Stephanie and her personal style and of-course http://www.stylesafrik.com 
You can view the online version by clicking the link below:
http://www.metro.co.uk/lifestyle/916552-what-i-wear-stephanie-mensah-on-her-bold-ambitious-african-style 
Here she is pictured wearing Jessique Designs, Stephanie used her own belt to accentuate her look complimenting her Ted Baker courts!
Other accessories pictured include her ring, brooch and earrings all by Kizmet Designs! Available to you on http://www.stylesafrik.com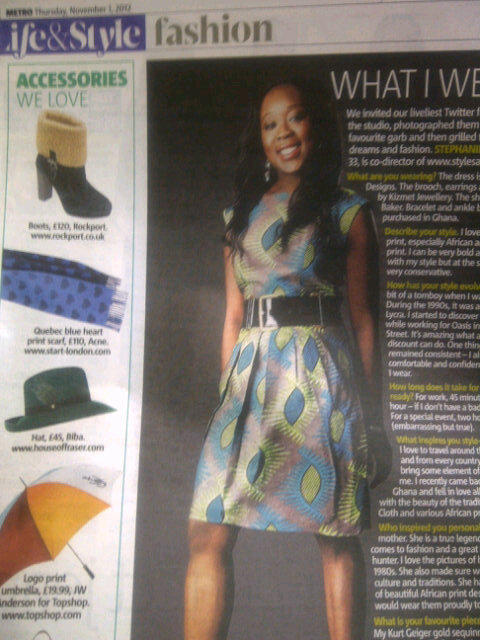 This is definitely a MILESTONE we are super proud of, be sure to look out for more StylesAfrik appearance in your glossies and newspapers.
Stay Stylish 🙂